TOP SELLERS
• Current Issue
• Newsletter Archive
• Sign Up Now


• Contact Info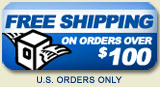 I am here to say THANK YOU! Your software is great!!!

When I read the description of the recipe program, I thought it was too good to be true (the price, the ability of the software, etc.). I even called your company by telephone to ask if I understood the promotional information correctly.

Upon receiving it and using it, I have discovered that every bit of it is true! (I LOVE the nutritional calculation feature!) Thanks so much for your product and for keeping it affordable, too!

Debi Self Read more...
Bran Muffins
DVO Recipe Center
Makes: 12 Muffins

This batter will keep in the fridge for up to 4 weeks if you can keep it that long. You can have fresh baked muffins every morning. -Relda Sandgran, Logan, UT

15 ounce box Raisin Bran Cereal
1 cup vegetable oil
3 cups sugar
4 eggs
1 quart buttermilk
5 cups flour
5 teaspoons baking soda
2 teaspoons salt

Mix all dry ingredients together. In a separate bowl, beat eggs; fold in vegetable oil and buttermilk. Mix this together with the dry ingredients; place in a container and let stand for one night in the fridge. Place cupcake liners in muffin tin. Fill about 2/3 full and bake in a preheated 400°F oven for 15-20 minutes.
Help on downloading recipes
---
---
Copyright © 2007 DVO Enterprises, Inc..