TOP SELLERS
• Current Issue
• Newsletter Archive
• Sign Up Now


• Contact Info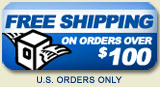 I am here to say THANK YOU! Your software is great!!!

When I read the description of the recipe program, I thought it was too good to be true (the price, the ability of the software, etc.). I even called your company by telephone to ask if I understood the promotional information correctly.

Upon receiving it and using it, I have discovered that every bit of it is true! (I LOVE the nutritional calculation feature!) Thanks so much for your product and for keeping it affordable, too!

Debi Self Read more...
Double Chocolate Muffins
DVO Recipe Center
Makes: 12 Muffins


Split in half and spread with raspberry jam for a desserty experience.

2 cups flour
2/3 cup baking cocoa
1/2 cup sugar
2 teaspoons baking soda, pressed through a sieve to remove lumps
1/2 teaspoon salt
1 cup semisweet chocolate chips (miniatures work great!), divided
1 1/3 cups milk
1/3 cup vegetable oil
2 large eggs
1 teaspoon vanilla

Preheat oven to 400°F. Coat muffin tins with non-stick cooking spray. In a large bowl, combine the dry ingredients. Stir in 1/2 cup chocolate chips. In a separate bowl, combine the liquid ingredients and whisk until smooth. Fold into the dry ingredients just until moistened. Don't overmix. Scoop the batter evenly into the prepared pan. Sprinkle with the remaining chocolate chips. Bake at 400°F. for 20-22 minutes or until a toothpick inserted in the center comes out clean. Cool on a wire rack before removing from the pan.
Help on downloading recipes
---
---
Copyright © 2007 DVO Enterprises, Inc..