TOP SELLERS
o Current Issue
o Newsletter Archive
o Sign Up Now


o Contact Info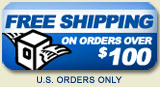 I am here to say THANK YOU! Your software is great!!!

When I read the description of the recipe program, I thought it was too good to be true (the price, the ability of the software, etc.). I even called your company by telephone to ask if I understood the promotional information correctly.

Upon receiving it and using it, I have discovered that every bit of it is true! (I LOVE the nutritional calculation feature!) Thanks so much for your product and for keeping it affordable, too!

Debi Self Read more...

Aunt Sally's Famous Chocolate Sauce
DVO Recipe Center
Serves: 8





See the video of Dan and Russ making Aunt Sally's Chocolate Sauce. Click here (56k) to watch the video. If you have a high speed connection, click here (300k) to see a higher-quality video clip.

1 stick butter or margarine
1 14-oz can sweetened condensed milk
1/2-3/4 cups evaporated milk
1 1/3 cup sugar
4-5 squares unsweetened baking chocolate

Combine all ingredients into a large bowl, mixing slightly, then microwave on high for approximately 3 minutes. There should still be chunks of butter and chocolate when finished.

Next, pour mixture into a blender and blend for 1 minute or so until thick. Enjoy!



Help on downloading recipes

---

OTHER GREAT RECIPES AND ARTICLES
• Chicken Bean Supreme
• Curried Fruit Sauce and Pork
• Good Morning Blueberry Sauce
• Strawberries and Sabayon in Cookie Shells
• Lemon Sauce for Vegetables
• LIVE VOTE: What's Your Favorite Newsletter Section?
• HomeCook'n Cover Page



for Windows 9x/2000/ME/NT/XP/Vista

Not sure what to order?


Piles of recipe cards in your drawer?
Download Cook'n today and get organized!
Cook'n Cookbook Software Download - MSRP $99.95
(Save 20%)
Download: $79.95
CD: $79.95

Buy the CD or download the full version of Cook'n right now! Includes over 300 of our best recipes.
---
Copyright © 2007 DVO Enterprises, Inc.