Print this Recipe
DVO Recipe Center
Serves: 6


This luscious dessert is a light and elegant finish to heavy meals. As a serving alternative, spoon the sabayon onto the dessert plate and set the strawberry filled cookie shell atop the white cloud, garnished with pecans.

Cookie Shells
1 egg
3/4 cup powdered sugar
2 tablespoons brown sugar
1/2 teaspoon vanilla
1/8 teaspoon salt
1/3 cup flour
2 tablespoons melted butter

Grease and flour a baking sheet. Preheat oven to 350 F. Beat egg and sugars until fluffy; stir in vanilla and salt. Fold in flour and butter. Spoon about 2 tablespoons batter into a 5 to 6 inch circle, spreading batter evenly onto prepared baking sheet. Bake 2 at a time, at 350 until brown, about 4-5 minutes. Wile hot, lift cookies off the sheet with a spatula and mold over the back of a small bowl. Repeat with remaining batter. Cool cookies completely before removing from bowls.

Sabayon Sauce
6 egg yolks
1/4 cup granulated sugar
1/3 cup frozen orange juice concentrate, thawed
1/2 cup heavy cream, whipped
4 cups strawberries, sliced
1/2 cup chopped pecans

Whisk yolks and sugar in the top of a double boiler over simmering water until fluffy. Gradually whisk in orange juice concentrate beating until slightly thickened. Chill mixture about 1 hour. Fold in whipped cream. Divide strawberries evenly amount 6 cookie shells. Spoon sauce over each and sprinkle with nuts.

Help on downloading recipes
---
OTHER GREAT RECIPES AND ARTICLES
•
Aunt Sally's Famous Chocolate Sauce
•
Chicken Bean Supreme
•
Curried Fruit Sauce and Pork
•
Good Morning Blueberry Sauce
•
Lemon Sauce for Vegetables
•
LIVE VOTE: What's Your Favorite Newsletter Section?
•
HomeCook'n Cover Page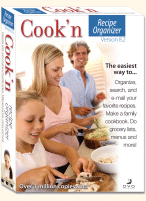 for Windows 9x/2000/ME/NT/XP/Vista

Not sure what to order?

Piles of recipe cards in your drawer?
Download Cook'n today and get organized!
Cook'n Cookbook Software Download - MSRP $99.95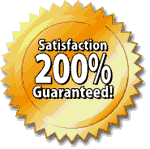 (Save 20%)
Download: $79.95

CD: $79.95



Buy the CD or download the full version of Cook'n right now! Includes over 300 of our best recipes.